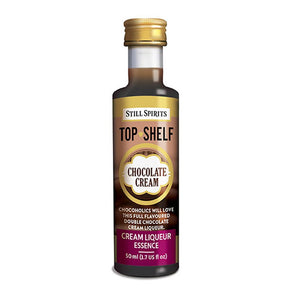 Top Shelf Chocolate Cream Liqueur - 50ml
Hopback Homebrewing Supplies
Regular price $5.25 $4.25 Sale
Top Shelf Chocolate Cream Liqueur
BEST BY 11/2023 REDUCED TO CLEAR
Full flavoured double chocolate liqueur! Use the cream liqueur base pack, 500ml of 40% distilled alcohol, add the flavouring essence and top up with water to 1.12 litre. Makes  one and a half 750ml bottles.
Still Spirits is the recognized world leader in still technology, distilling products and spirit essences. With Still Spirits products you can easy make low cost alcohol and turn it into delicious, full flavoured, authentic replications of far more expensive spirits & liqueurs.
Please note, Still Spirits are re-branding their products, so packaging may appear different from picture.
Flavoured essences