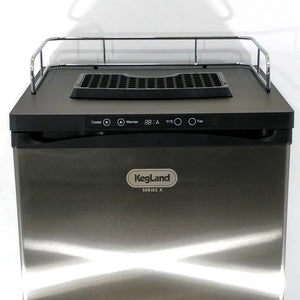 Keg Master Series X Kegerator Fridge Only - Kegland
Hopback Homebrewing Supplies
Regular price $815.99 Sale
KegLand Series X - Kegerator Fridge Only
THIS ITEM IS FOR PRE ORDER ONLY, PLEASE EMAIL FOR AVAILABILTY
by KegLand
This Fridge Only Pack Includes:
2 x Locking Castor wheels
2 x Non-Locking Castor Wheels
1 x Internally Mounted Beer Glass Rack Holder
1 x Black Reinforced Plastic Drip Tray
1 x Wire Shelf
1 x 2.6kg Cylinder Bracket Holder
1 x Chrome Guard Rail
1 x Font/Recirculation fan
Improved Features:
With our new and improved inbuilt Font Fan with toggle on/off function, the Series X Keg Master from Keg Land will surely not disappoint.
New circuit boards with temperature control, calibration and on-board memory functions as standard.
Increased compressor power while being approximately 20% more electrically efficient.
Dimensions:
- 600mm Wide
- 640mm Deep
- 840mm Height