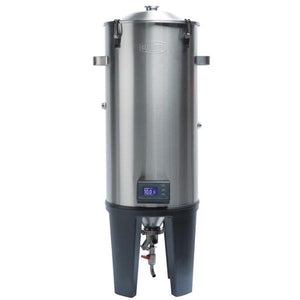 Grainfather Conical Fermenter Bundle
Hopback Homebrewing Supplies
Regular price $676.00 $676.00 Sale
Grainfather Conical Fermenter Bundle 
This bundle includes the Grainfather conical fermenter, dual valve, and digital temperature controller. 

Included:
Conical Fermenter 
Fermenter Lid 
Rubber Bung 
Bubbler Airlock 
Cone Plug 
Cone Plug Seal 
5 cm (2") Tri Clamp
Digital Temperature Display (does not control temperature, Temperature Controller available seperately) 
Power Adapter and Wall Plug
Bottom patented dual valve
Digital temperature controller 
Ferment like never before! The Grainfather Conical Fermenter gives the brewer professional fermentation control, just like the commercial breweries. Fermentation is arguably the most important part of producing a good quality beer. A good fermentation environment starts with a clean and sterile fermenter, has a consistent controlled temperature base and exposure to oxygen is minimised. 
The Grainfather Conical Fermenter provides you with a modular system for all of this and more!The basic unit provides a professional quality fermentation environment for any beer style and a range of add ons are also available to further enhance the fermenter, depending on your stage of brewing and your budget allows.
FEATURES: Double WalledIntegrated Gentle Heating. Integrated Cooling Sleeve. Easy Access to the Interior for Hassle Free Cleaning.
Golden Angle Conical
Support: The Grainfather Conical Fermenter is fully supported around the world. All Grainfather Conical Fermenters come with a 24 month warranty.