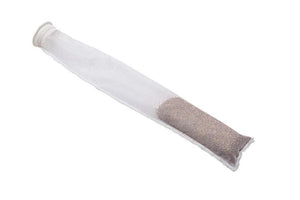 Fermonster - Mini Mesh
Hopback Homebrewing Supplies
Keep hops, chips, oak powder, grape skin, hops, fruit, or any other ingredient you can think of inside the Strainer without clogging your equipment.
The Fermonster Strainer comes in 2 sizes:
The Mini Mesh: Fits any carboy that takes a #10 Bung, including the Fermonster.
The MonsterMesh: Designed to grab onto the lip of the FerMonster, underneath the lid.
You can use both the MonsterMesh and MiniMesh on the FerMonster at the same time. This way you can have two infusions starting and/or ending at different times.
BPA free and made out of food grade materials. The mesh is a #50 with a mazimum recomended temperature of 122F (80C).