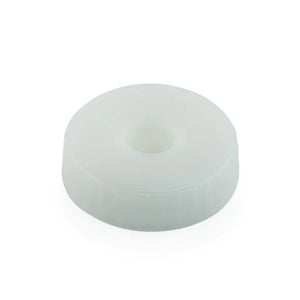 Closures - Screw Cap With Hole - 38 mm (each)
Hopback Homebrewing Supplies
Discover the ultimate solution for home brewers with our Closures Screw Cap with Hole (38 mm | 1.5 in). Designed explicitly for 1-gallon jugs, this screw cap is tailor-made for those who prefer to craft smaller batches of their favourite beverages. Embrace the art of closed fermentation with the cap's ingenious void, allowing seamless integration with an airlock. Experience the CO2 release while safeguarding your batch from oxygen contamination, ensuring the finest brews.
Ease and efficiency are at your fingertips with this user-friendly screw cap. Simply seal it onto your jug, and insert an airlock through the designated hole for a streamlined fermentation process. Crafted with durability, this screw cap stands the test of time, making it a reliable tool for home brewing. Clean-up is a breeze, ensuring convenience from start to finish.
Key Features and Benefits:
Perfect for Home Brewers: Tailor-made for 1-gallon jugs, ideal for crafting smaller batches.
Airlock Compatibility: Features a void designed to accommodate an airlock, ensuring a closed fermentation environment.
CO2 Release: Facilitates the release of CO2 during fermentation, promoting optimal brewing conditions.
Oxygen Prevention: Safeguards your batch from oxygen contamination, preserving the quality of your brew.
Easy to Use: Simple screw-on application and effortless airlock insertion for hassle-free fermentation.
Durable and Easy to Clean: Crafted with durability in mind, and ensures easy cleaning for repeated use.
Reliable Home Brewing Tool: A convenient and dependable companion for all your home brewing needs.
Made in Canada: Crafted with Canadian precision, ensuring exceptional quality and authenticity.