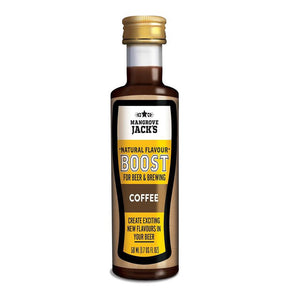 Coffee - Natural Flavour Boost for beer - 50ml
Hopback Homebrewing Supplies
Regular price $6.99 $5.75 Sale
***BEST BY DATE 09/2022***REDUCED TO CLEAR ***
Mangrove Jack's Coffee Flavouring. Add exciting natural flavouring to your beer!
Derived from natural ingredients, Mangrove Jack's Natural Flavour Boosts allow you to add a new element of flavour to your beer. Create a huge range of unique beer creations with fantastic flavours to experiment with! 
Coffee has a strong brewed coffee aroma, but still sweet to the taste. Fantastic for Stouts, Coffee, IPA, Porters. 
For full instructions, see product label. The above is just a guide, flavour to your own taste.